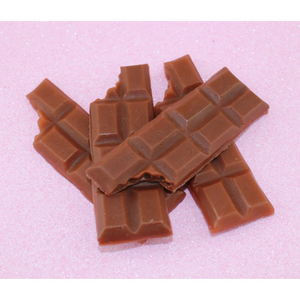 Plunk Soap Company
2 Chocolate Candy Bar Soaps: Gift for Children, Stocking Stuffer, Candy Soap, Novelty Soap, Gag Gift, Guest Soap, Food Soap, Plunk Soap
Regular price
$6.00
$0.00
Unit price
per
For years, chocolate bars have been making people happy. It is a favorite food among many and now you can enjoy them without the calories and guilt!  They are great for a gag or novelty gift or just to fool your friends and family in your home.

These bars look and smell like the real thing and they can still be a guilty pleasure!
What you will receive:
2 Chocolate Candy Bar Soaps with a fake bite out of the candy bar.
Scented in Chocolate
Item will come wrapped with an ingredient sticker on the back.
Sticker will have Do Not Eat!  Glycerin soap on it.
---