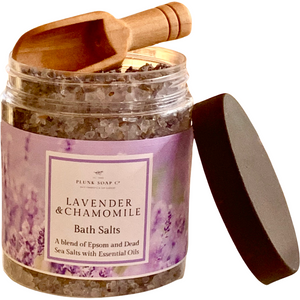 Plunk Soap Company
Lavender and Chamomile Bath Salts: Free Shipping
Regular price
$19.00
$0.00
Unit price
per
A soothing mixture of Epsom and Dead Sea Salt formulated with natural essential oils and dried French Lavender petals to help the body relax and relieve stress. Wooden spoon is included with this purchase.
8 oz container with lid and wooden spoon
Health Benefits of Ingredients:

Epsom salt releases magnesium and sulfate ions, thereby helping relieve muscle tension.
Dead Sea Salt has been reported to help reduce acne, reduce Psoriasis, help in detoxification, reduce stress and insomnia, helps fine lines and wrinkles and soothes sore joints and muscles.
Essential Oils: 
Lavender Essential Oil: helps improve mood, reduces stress and relieve anxiety.
Chamomile Essential Oil: calming and anti-inflammatory
Directions for Use: Pour a generous handful of bath salts into running water when bath is full and swirl to disperse. Relax and enjoy.  
Bath Salt Information:
• For all skin types
• Does not contain harsh chemicals                                                                                        • Size: Volume  8 oz Clear Container
• Wooden Scoop
• Premium Oils
• Gluten Free, Phthalate Free, Non-Toxic, Cruelty Free
• Made in the USA 
INGREDIENTS: Epsom Salt, Dead Sea Salt, Essential Oils, Lavender Buds, Baking Soda, Olive Oil
---