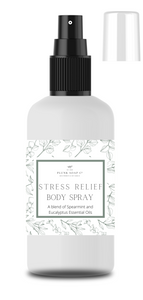 Plunk Soap Company
Stress Relief Scented Body Spray: Unisex Spray, Room Spray, Linen Spray: Free Shipping
Regular price
$12.99
$0.00
Unit price
per
Our luxurious aromatherapy body spray is created with pure high quality essential oils and ingredients for a blend that will calm the senses. A fine fragrance mist with a blend of Peppermint and Eucalyptus which will give you a full light coverage of scent.  Spritz any time you are feeling overwhelmed and feel the stress drift away.
This product can be used as a body spray, room spray or linen spray.
Stress Relief:  A blend of Peppermint and Eucalyptus Essential Oils.  Calming properties.

4 oz or 8 oz plastic bottle with spray top
Spray top with cap
*  High quality Fragrance and Essential oils                                                                               * Phthalate free                                                                                                                        * Eco-Friendly
* High quality ingredients                                                                                                          * Non GMO
*No animal testing
Made in East Hampton, CT USA
For external use only.  These have not been evaluated by the FDA and are not intended to diagnose, treat, cure, or prevent any disease or health condition.
---