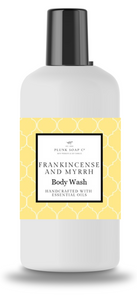 Plunk Soap Company
Frankincense and Myrrh Body Wash: FREE SHIPPING
Regular price
$20.00
$0.00
Unit price
per
Frankincense and Myrrh Body Wash produces many slippery, creamy bubbles and contains Cocamidopropyl Betaine thought to have aid in antiseptic properties.  A scent that awakens the mind and calms the spirit with this warm, earthy blend.
Frankincense and Myrrh:  Traditional riches of blended frankincense with myrrh.  Unisex blend
Body Wash Information:
• For all skin types
• Does not contain harsh chemicals
• Size: 8 oz bottle
• Flip top
• Premium Essential Oil
• Gluten Free, Phthalate Free, Non-Toxic, Cruelty Free
• Made in the USA 
INGREDIENTS: Water, Sodium Laureth Sulfate, Sodium Lauryl Sulfate, Cocamide MEA, Cocamidopropyl Betaine, Methylparaben, Methylchloroisothiazolinone, Methylisothiazolinone, Citric Acid, Sodium Chloride, Essential Oils
For external use only.  These have not been evaluated by the FDA and are not intended to diagnose, treat, cure, or prevent any disease or health conditions.
---